How do you successfully flirt with white girls?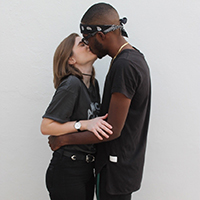 Black men and white women flirt differently, for both different reasons and expected outcomes. Flirting is an art that requires confidence without being over the top. Some of the same things that work in real life, also apply to online flirting. Let's face it, someone has to break the ice, and all relationships begin with successful flirting.
How do you achieve that halfway point?
Ninety percent of all communication is non-verbal. Body language always speaks first in any conversation. When you are confident your body relaxes, you lean in, you smile, and you become more animated. When you are tense or not at ease with yourself, you will be sitting back, crossing your legs, maybe your arms are folded, your mouth will barely break a smile, and your eyes will be searching the room. Knowing this will help you convey confidence with your body language.
If you flirt just to be friendly, you're opening yourself to different opportunities. You may well end up with a new lover, or at the very least, a good friend. You might even be introduced to the 'Right One' by this person. One never knows! Keep your options open.
6 Tips To Become A Successful Flirt:
I. Just relax. Have fun! Be lighthearted, funny, and entertaining. Make this person eager to talk to you again. Flirting is being playful.

II. Radiate confidence. Successful flirts have a positive outlook on life. You need to transmit this feel-good factor in your words and approach. An optimistic attitude attracts everyone.

III. Give out genuine compliments, and do it often. Suddenly doors fly open when you make them feel good about themselves. This person will want to spend more time with you and if he/she pays you a compliment, say thank you. Don't be self-depreciating.

IV. Listen. Pay attention to what they have to say and ask appropriate questions. Get them to open up and talk about themselves. Be sincerely interested.

V. Don't be rude. Flirting does not include being sexually explicit nor taking offense if the person isn't responding to you. If there's no interest, take the hint and move on. If you get a lot of rejections, you should probably consider a different approach.

VI. Send an email after you chat. It's similar to sending a thank you note or a gift, and it is vital to successful flirting. Don't try to go too fast.
A few additional tips:
After you have exchanged glances and smiles across a room and are fairly confident that this person is attracted to you, approach him or her. They are giving you the green light! Never use cheesy pickup lines, they never work. Keep your mind on the conversation and not on getting a date. Make an effort to get to know this person before going for a date.
Respect is key. Touching can be a lovely flirty action, but it should be confined to the arms or resting the hand just above the arms. Before touching, test the personal space by moving closer, noticing their reactions, then moving back a little, to remove the threat.
Respect yourself at all times. Women tend to fall for men who are that little bit unreachable. Think of yourself as special and know that you deserve the very best. Flirting is the first step to a successful white girl black guy relationship. Given this, what are you waiting for?
Totally Free To Place A Profile! Connect with millions of white women & black men in the world now!